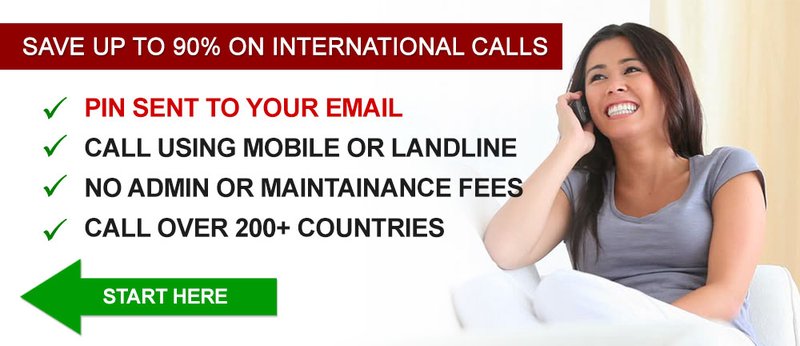 International calling cards help you save up to 90% on international calls to more than 200 destinations worldwide!
Cheap! Save Up To 90% On International Calling Rates
No Hidden Or Admin Fees On Our International Calling Cards
100% Rechargeable
International Calling Card Orders Are Processed Within 24 Hours 7 DAYS A Week, 365 Days A Year (Most Phone Card Pins Are Emailed To You
INSTANTLY
So You Can Use Your International Calling Card Immediately!)
Buy one of our cheap calling cards online and SAVE!
Why Are Our International Calling Cards So Cheap?
By using a prepaid international calling card for calling overseas you will save up to 90% on your phone bill. This is because phone card companies can buy bulk minutes from the large carriers like Telstra, Optus and AAPT at a fraction of a price of major phone card companies. By using a phone card you get access to the same line quality as well as reliability at a fraction of the price that you currently pay with your telecom service provider.
Our International Calling Cards Are Flexible
Our phone cards make it easy for you to make international as well as national calls to any home phone landline or mobile phone.
How Do I Find The Cheapest International Calling Cards?
To assist you to find the cheapest international calling cards we provide a free Calling Card Rate Find Tool to help you compare the rates of our prepaid calling cards against each other. We have tested each of these cheap prepaid calling cards for quality and we are the only online calling card store that carries $5 international calling cards so you only need to invest a small amount to test the quality and reliability of the phone cards for yourself.
To use our free Calling Card Rate Tool, you will see two drop-down boxes (orange box) on the upper left and side of this page. Simply click on the arrow on the right hand side of the drop down menu, select the destination that you would like to call and click on the search button, a list of rates will appear.
How Do I Buy A Calling Card?
Calling cards can be purchased by credit card, debit card, Pay Pal, or direct deposit through our secure website payment gateway.
Why Buy International Calling Cards Online From Us?
Live phone customer service, 7 Days a week (most online phone card companies do not even provide you with a customer service phone number).
Large selection of high quality calling cards. We do NOT stock phone cards that offer poor quality or have hidden charges so that you can buy with assurance.
Simple and convenient. Choose your phone card, pay with your credit card and receive your serial number and PIN by email.
We set up an account for you for free so that you can always review your history of past orders.
We are a well-established all Australian company that has been in business for nearly 5 years (check our ABN below).
Thousands of happy and satisfied customers.
Safe and secure. We have NEVER had a case where our customer's credit card details have been compromised. In fact when you order on our website we do not even see your credit card number, it is encrypted and securely transmitted to our Bank (St George Bank)
OVERSTOCKED PHONE CARDS!
Discounted Australian Phone Cards On Sale.
Limited Stocks left!


Price: A$ 5.00
Sale price: A$ 4.25




Price: A$ 10.00
Sale price: A$ 8.50




Price: A$ 10.00
Sale price: A$ 8.50




Price: A$ 10.00
Sale price: A$ 8.50




Price: A$ 50.00
Sale price: A$ 42.50




Price: A$ 30.00
Sale price: A$ 27.00




Price: A$ 10.00
Sale price: A$ 8.50




Price: A$ 10.00
Sale price: A$ 9.00




Price: A$ 20.00
Sale price: A$ 18.00




Price: A$ 40.00
Sale price: A$ 34.00




Price: A$ 10.00
Sale price: A$ 9.00